Renovating your home can be an arduous task. There are many aspects to consider, from design to budget to the practicality of the materials used. Sometimes the focus on the décor and look is so great that it can eclipse your attention to the flooring. Looks matter and that's why choosing suitable flooring makes a significant difference to the overall look of your space.
Because of its innumerable benefits, Hybrid floors are one of the popular hard floors, builders and homeowners choose. Apart from being visually inspiring, they are also hardwearing and uniquely designed to give your space a clutter-free modern look. Let's get the lowdown on hybrid floors and how they might just be the perfect floor for your home.
What are hybrid floors?
As the name suggests, hybrid floors are a cross between laminate and luxury vinyl plank. Typically, laminate flooring is not waterproof, so it will swell, while a luxury vinyl plank is waterproof, but the floor needs to be prepped before installing the planks to the floor. Hybrid floors take the best of the two worlds; they are waterproof and can be laid directly on most sub floors. They consist of 4 layers:
The top layer has a PUR coating protecting it from stains, scratches, and fading.2.
The second layer is the design layer which mirrors the various timber designs as well as tile and stone designs
The third layer consists of a rigid solid core board that resists temperature changes and is waterproof.
The fourth layer is the built in underlay which allows you to directly install it on most sub floors. It also provides a soft underfoot and added acoustic performance.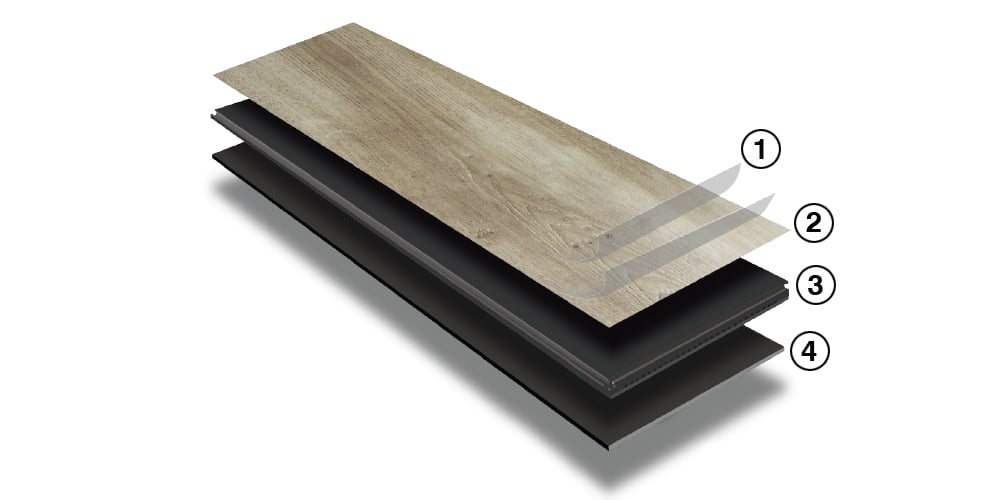 Benefits 
If you are renovating your home or considering sprucing up a rental property, hybrid floors can be a great option. If you have pets or children, hybrid floors will rescue you from everyday 'cleaning concerns.' Hybrid floors are popular for a reason. They come with many advantages:
Easy installation and removal
Hybrid planks can be laid over most sub floor thanks to its in-built underlay. Signature Floors' hybrid planks collection features a 5G click-lock system for easy installation and removal. If you need to move houses, you can simply remove the planks without damaging the floor; you can also change your flooring without worrying about damaging the floor under. Additionally, instead of changing the entire floor, you can replace planks individually to fix a damaged area.
Hybrid planks are highly durable despite their flexibility in installing and removing them. They are temperature resistant, which makes them ideal for Australian weather. If you are after flooring that can withstand high foot traffic or have children and pets bound to spill and scratch, water and scratch-resistant hybrid floors will endure it all. If you have a home filled with natural light and sun rays pouring through the room, you can rest easy as hybrid planks are fade-resistant and will last you a long time.
The last thing you would want to add to your everyday list of things at home is a demanding floor. With no gaps between floorboards for dirt and grime to collect, they are easy to maintain. Regular sweeping, vacuuming and steam mopping should be enough to clean your floors. Having said that, ensure you do not use harsh chemicals or soaps to clean the floor. Scrubbing or scouring the floors should also be avoided.
Hybrid planks are an excellent choice for modern homes. Signature Floors offers a range of hybrid planks that will leave you spoilt for choice. Mirroring the natural designs of oaks to the splendid Aussie Species and stones, they come with fine details of natural timber that will lend character to your floor and home. Additionally, Signature hybrid floors are one of the flooring choices that offer acoustic comfort, which means you can expect quieter spaces in your home and soft underfoot. Minimalistic and hassle-free define hybrid floors the best way.
Consideration
When choosing your hybrid planks, choosing the right colour is essential to setting the right mood for the space you are trying to create. For example, if you are trying to create a comfy space that is highly functional and welcoming, Signature Floors' hybrid collection includes wood, stone, and concrete planks that give you a variety of options to choose from. You can play around with our Floor Visualiser application to decide which flooring you want to install and order your top 3 samples for free.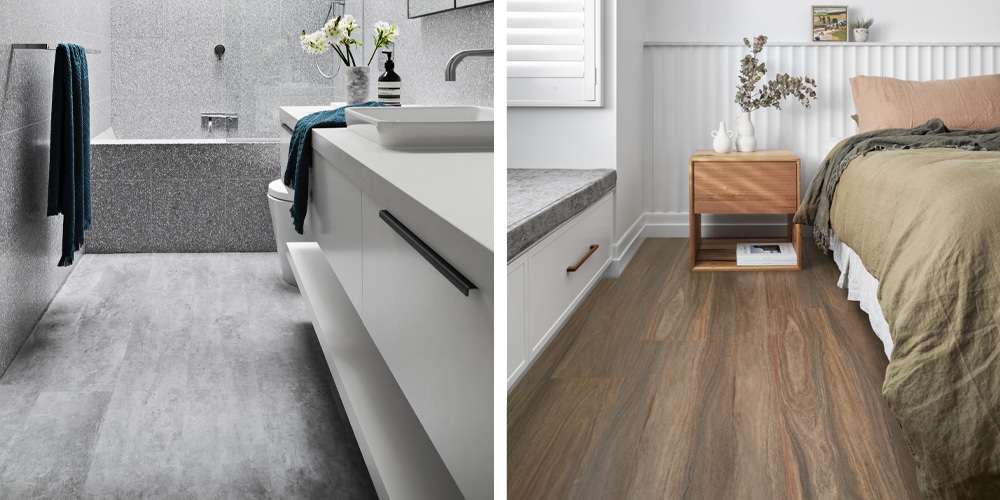 Light toned floors are a great way to make a space look bigger. Our Urban Grey hybrid floor from the Quattro range makes this narrow-spaced bathroom look spacious and contemporary. Similarly, dark wood flooring can add elegance and cosiness to a space. Our Cartright Spotted Gum 08 from the Dimension range enhances the relaxed space of this bedroom. Dark floors refract the natural light penetrating the room, exuding a sense of warmth and comfort.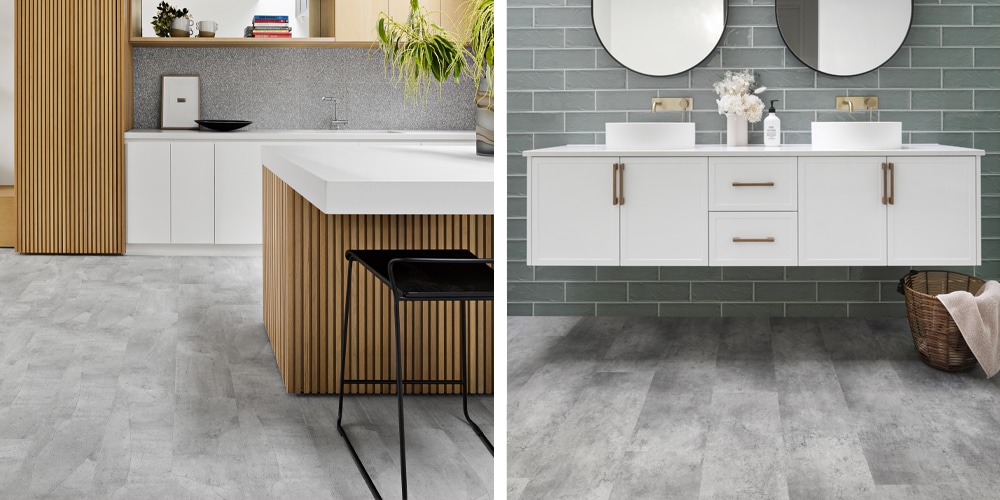 If you are thinking of changing your floorboards in areas that will be enduring a lot of foot traffic, choosing grey floors would be a safe option. They are easy to clean and can look practically dust-free. They also make the room look airy and spacious. In addition, most furniture colours will blend perfectly on grey floors. Our Quattro- Urban Grey tiles complement the white walls, bamboo cabinets, and island in this open planned kitchen. While you can play around by contrasting pastel wall tiles against the Aquinas floor from Dimension hybrid planks range.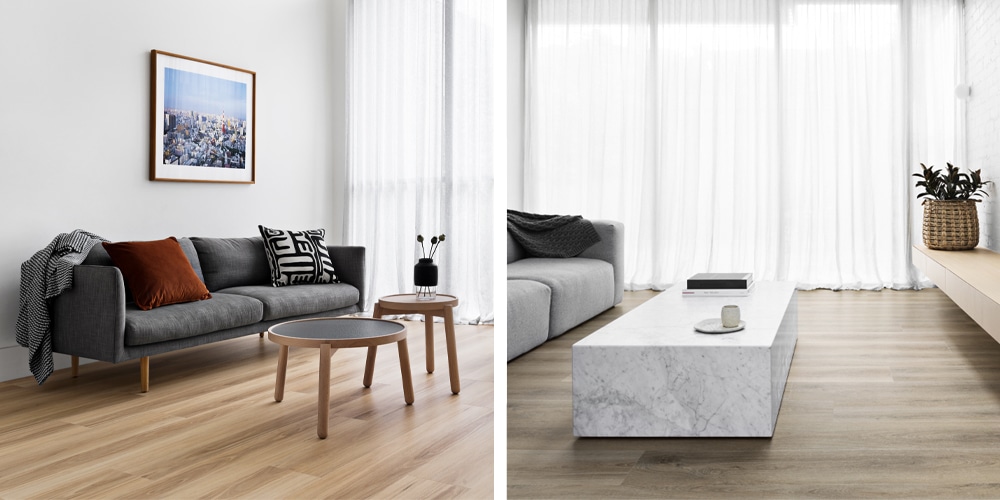 Some things never go out of style; natural oak tones in flooring are one. They add elegance to any room. However, it can be tricky to decide if you want a lighter or darker designed floor. You need to consider certain factors: the natural lighting that comes through the room, the type of space you want to create, and your family dynamics. The natural designs on Signature Floors oak and Aussie Species range highlights the woodgrain lines and traces in unique patterns, which influences the eye's perception of making the room look bigger. Whether it is our New England Blackbutt planks from the Quattro range underlining the natural light in this minimalistic living room or is our Sherwood oak that gives a modern feel to the living space, either way, oak tones add a homely feel.
If you are a lover of concrete and timber floors but the upkeep of these floor has deterred you from installing them, hybrid floors can bridge the gap. They mirror the looks of these floor textures and are super easy to maintain. To get hybrid floors to match your space and style you can try our Floor visualiser on our website to get a real time view of what your floor will look like. You can even order 3 free samples and get them delivered at your doorstep.  Good luck!