Meet the designers behind Vivid 202 colour carpet tiles
Since 2012, Vivid has been at the centre of Signature's colour story. It initially launched as a humble range of 30 solid colour carpet tiles, offering designers unique ways to experiment with commercial flooring design. With a focus on flexibility and customisation in colour and layout, the range quickly grew to 60 and eventually 101 colours in 2019. With this latest launch, Vivid has expanded to a whopping 202 stocked colours. This means designers now have access to a kaleidoscopic palette to define their colour signature, combined with the opportunity to streamline delivery and maintain project sustainability.
But, for Angelique Mandarano and Ana Francois, developing the colours and giving them an identity was no mean feat. In this freewheeling conversation, I chat with the dynamic duo about all things Vivid 202. Especially its origin story, development, versatility, application and sustainability. Captured here are some key insights and excerpts from our conversation.
Pia: Vivid's grown exponentially from 101 to 202. What's the story there?
Angelique: The reason for such a large range is to help our customers have the largest selection of stocked carpet tile colours in the market. Colour is a deeply personal thing, defining our personalities, identities and helping convey messages. Ultimately, we are creating spaces for people. And, so Vivid as that tool allows our customers to play on those subtle nuances of colour and personality.
Pia: The element of colourability is key to Signature's ethos. What is colourability and how does it tie to Vivid 202?
Angelique: Vivid is the vessel that allows us to deliver our colourability. It's a standalone range with 202 references. But, it's also a paintbox to colour our other collections. If you see a carpet tile that's got a flicker or strike of colour, you can tie that colour back to the range. It's what helps us create beautiful synergies in our carpet tiles. But, it also allows our customers semi-customisation opportunities. Because they can pick a colour out of Vivid and drop it into the other collections for really low minimum order sizes. Along with colourability, Vivid 202 is also flexible, available and sustainable.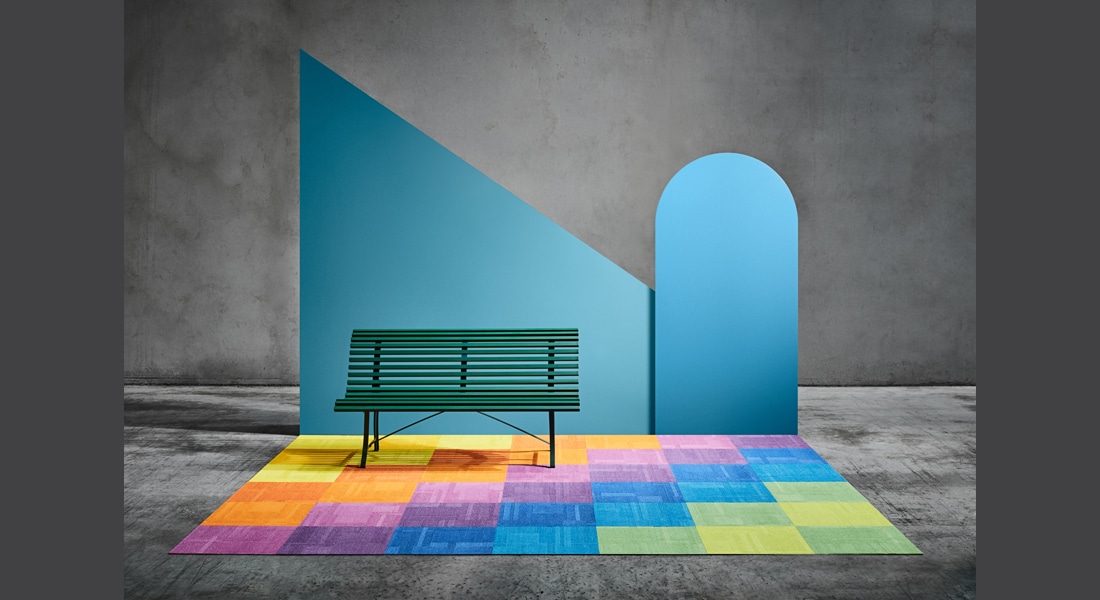 Pia: So, how are our customers going to sample all 202 colours?
Ana: We've created a large architectural box with six colour trays for each of the six colour families in the range This makes it easier for our customers to find the right colour references. The other good news is that they can pull out a tray and work in isolation with any one of the colours. So if you're working on a project that requires just the blue, you need to simply pull out the blue tray and pop it onto your mood boards. This sampling format is aimed at streamlining the selection process for our customers, especially since timelines are so tight in projects these days. And of course, they can then contact our sampling service to order a larger tile.
Pia: What makes Vivid so versatile?
Ana: Vivid is the perfect range to use as a highlight or an accent. And, it works back with many of our ranges like the 88 Planks vinyl flooring range, as well as our carpet tiles and planks. It's easy to design custom combinations using Vivid's highlight colours. Some of the 202 colours are stocked in 10 Shapes by Signature. However, you can also customise any of the 202 colours into one of our 10 shapes. And, while all 202 references are stocked in ThermoBak, selected references are also stocked in Comfi Bak cushion backing.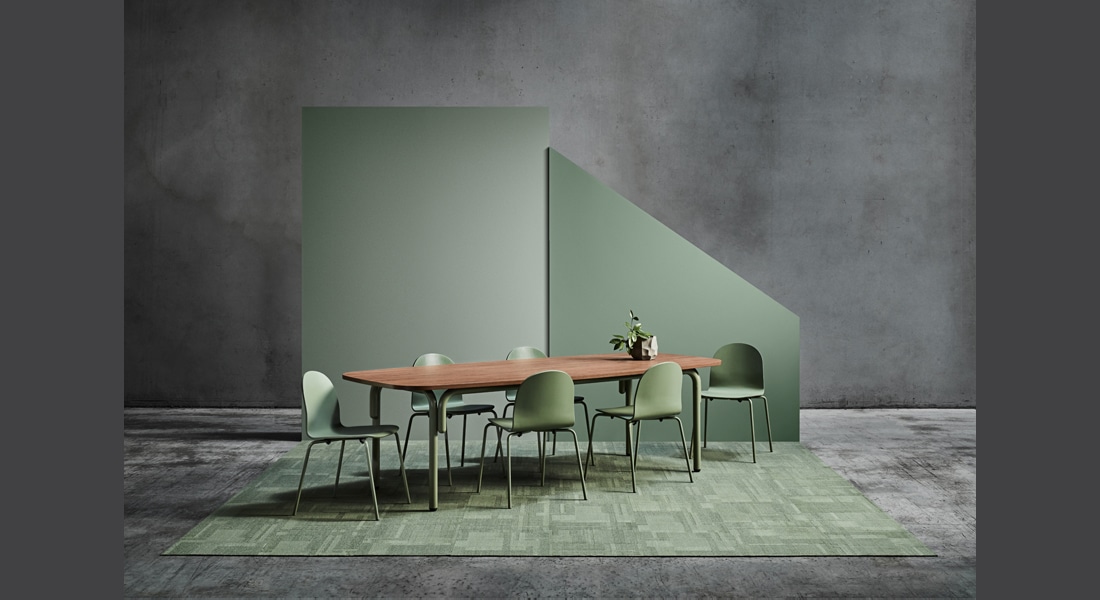 Did you know that the Vivid range is sustainable, supported with a GreenRate Level A certification from Global Green Tag? For material transparency, don't forget to ask for Declare labels. Signature's also closing the loop with local carpet tile recycling in Melbourne.
Watch the entire video to learn more about using Vivid 202 creatively in your projects.
Explore complementing commercial flooring options with Vivid 202: Woven vinyl tiles |  Luxury vinyl plank and tile  | Custom carpet | Industrial carpet needlepunch