Stand out with custom commercial carpets
In the hospitality industry, guest experience is worth its weight in gold. That's why, when it comes to creating a transformative interior that pays attention to aesthetics and comfort – custom carpet in hospitality feel like an obvious choice. Akin to a spectacular piece of art on the wall – it works to draw the eye and tie together an entire interior scheme. The customisation process also guarantees creative control – ensuring the final product is in complete alignment with you/the client's brand identity.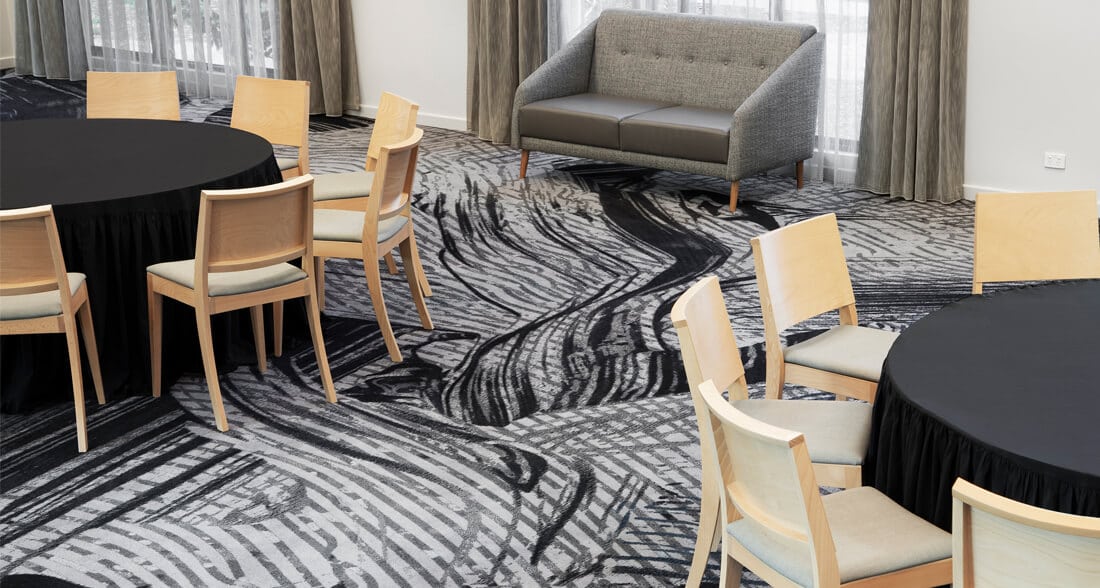 Photo: Dylan James | Designer: BSPN Architecture0| Location: Chirnside Country Club | Carpet: Signature Floor Coverings
But what does it mean to customise?
Customisation at Signature Studio starts at the design brief level. With large-scale hospitality projects, the possibility of carpet wastage and high product spend is often too real. That's where you can count on the team's expertise to evaluate your design and advise you on how best to minimise product wastage, hit the brief, and also bring costs down.   
You also get to lean on the Studio team's wealth of experience to develop design concepts and 3D room visualisations aligned with your project goals. Whether you're inspired by nature, abstraction or the built world – the Studio creatives will collaborate with you to bring this creative vision to life.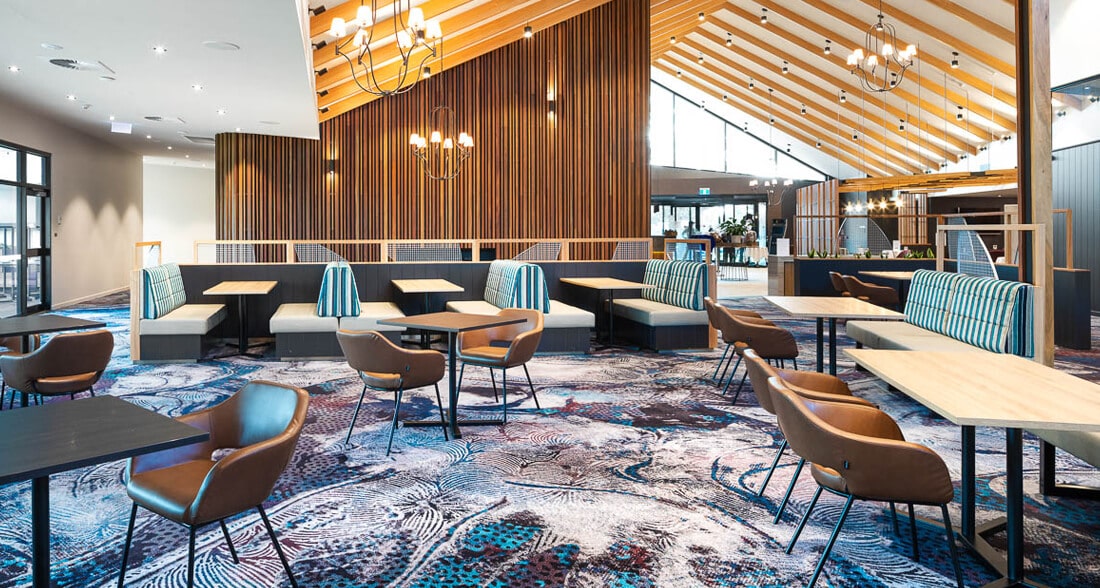 Photo: Dylan James Designer: BSPN Architecture Location: Chirnside Country Club | Carpet: Signature Floor Coverings
Take the Chirnside Country Club by BSPN Architecture, for example. Its colour-rich custom carpet boasts of fluid patterns inspired by foliage and shadows of trees. It features intricate detailing with zero-pattern repetitions for a highly artistic effect. Similarly, by the same architecture studio at the Mulgrave Country Club, a custom woven carpet features a stunning palette of blush pinks and delicate greys.
With any customisation, a hand trial of your finalised design will assist in visualising the actual design, colour and placement. An approvals process follows with production, delivery and installation, transforming your spaces with custom carpet hospitality designs that impress.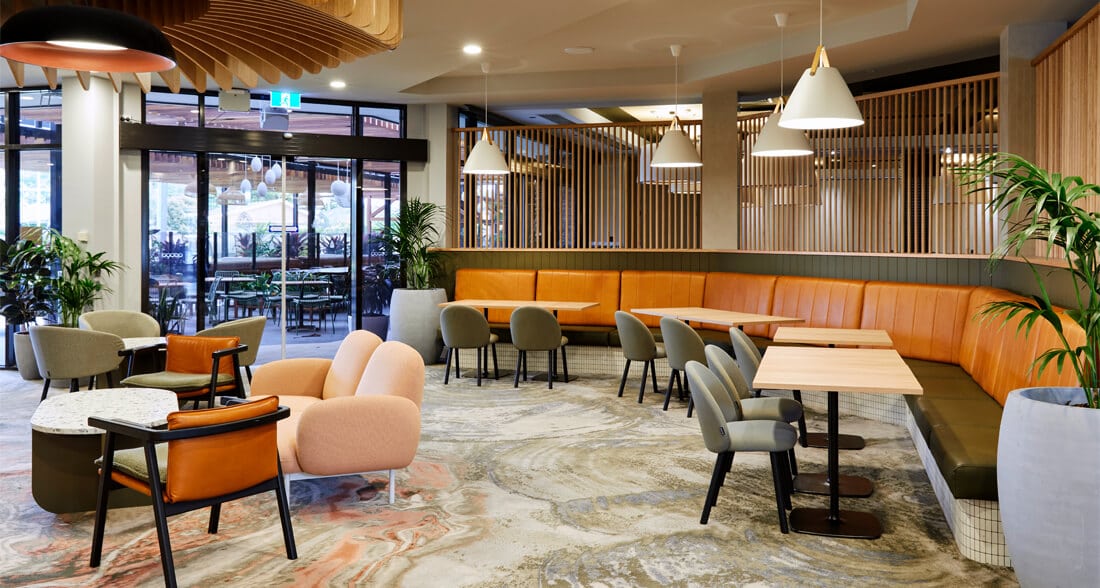 Photo: Dylan James Designer: BSPN Architecture Location: Chirnside Country Club | Carpet: Signature Floor Coverings
View our custom carpet collection
But that's not all.
Take customisation one notch above by choosing from one of five customisable carpet mediums.  
Hand Tufted
 Ideal for luxurious wall-to-wall carpeting or one-off bespoke rugs, hand-tufting lets you design and shape a carpet anyway you like. Also, get flexibility in terms of colour, design treatments and textural effects with the choice of a plethora of yarn options like wool, silk, and bamboo for a designer look and feel.
Woven
The gold standard in custom carpets – woven carpets (composed of 80% wool and 20% nylon) are lovely for that plush look and feel. Carpets are manufactured using state-of-the-art Axminster looms. As a result, you're able to create the most complex and intricate designs, in high definition, using a broad palette of colours and with absolute precision.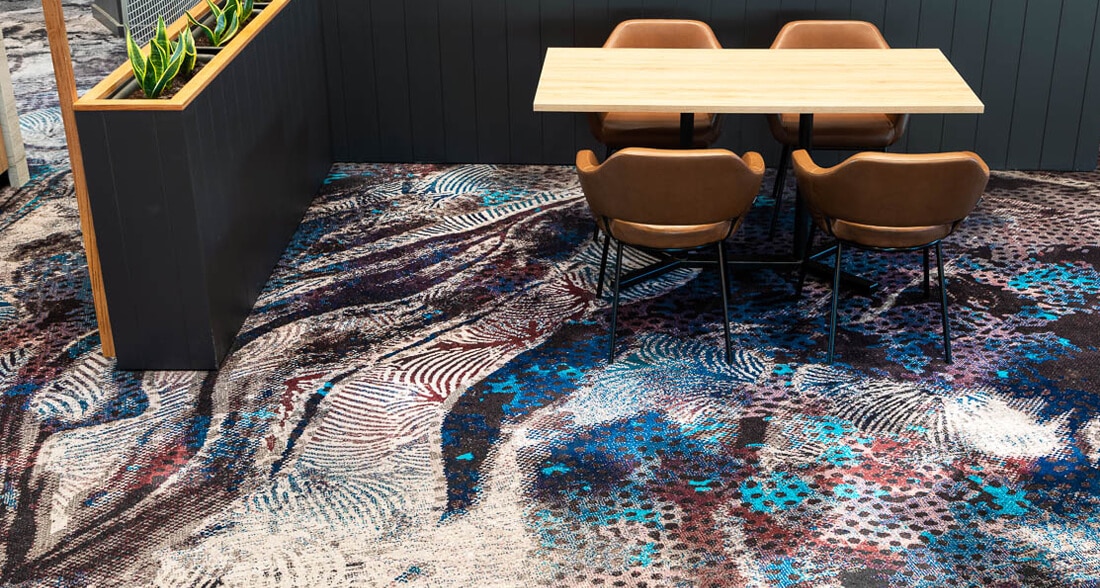 Photo: Dylan James Designer: BSPN Architecture Location: Chirnside Country Club | Carpet: Signature Floor Coverings
Dye Injection
Personalisation is a critical theme in design today. Therefore, rely on Signature's dye injection technology to help you achieve pinpoint design precision in an endless array of colour options on a wide variety of textural bases. 
Tufted
Customise with a more textural carpet crafted from branded solution-dyed nylon in a striking assortment of colours and fluorescent yarns. Tufted carpets feature different degrees of loops and tip shearing for added durability and aesthetic appeal. 
Modular
Modular carpet tiles and planks offer practicality and the economical use of space in commercial interiors. They're also flexible, allowing a versatile number of combinations for added design appeal. Customise with modular tiles by selecting from the Studio's assortment of colours, shapes and designs that suit.
Choose how you tell a story with your design choices. Seamlessly integrate your vision into a design – crafting a unique experience, both visually and texturally. 
This article originally appeared in Inside Magazine's February/March 2021 issue.