Flooring solutions for zoning & wayfinding in the modern workplace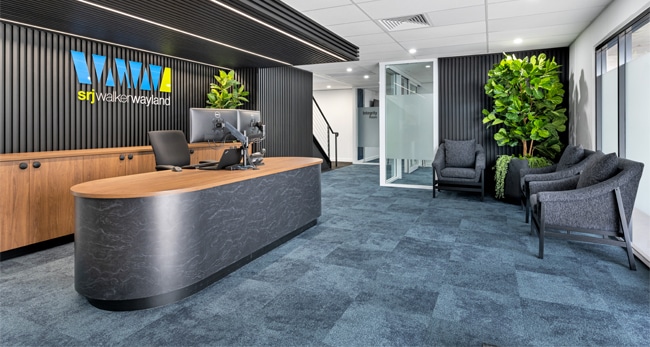 At Signature Floors, we're big fans of office fit-outs! And with good reason. Not only do spaces look and feel aesthetically elevated, functionally too, they offer the right balance of support, acoustic comfort and performance. In fact, our recent office flooring project with Brisbane-based architects Harry Poulos (HPA) offers ample evidence of this! The SRJWW workplace provides a sophisticated ambience, with flexible and colour-rich floor coverings, grounding the entire workplace design.
Speaking about the overarching design brief, Stephanie Manieri, Architect & Senior Interior Designer, HPA, says, "Ultimately, our brief was to create a new home for SRJWW. In doing this, we created an open-plan workspace. A space made of complimentary work zones for a breakout, collaboration, with individual study booths and meeting spaces."
Flooring and the workspace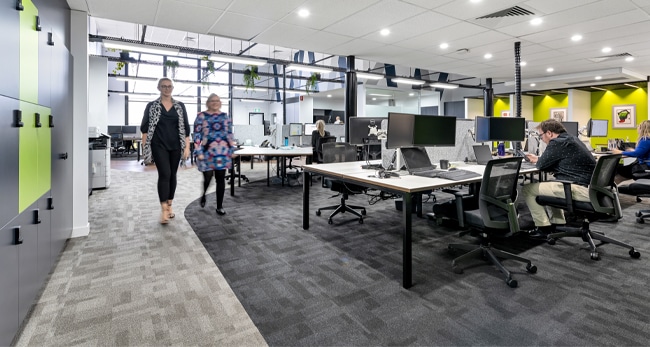 The designers chose Signature for our flexible flooring products. "The flooring defines each specific zone and creates the essence of wayfinding to allow staff to navigate through the workspace without building partitions. We had to deliver this project on a tight budget and time frame, so the availability and price point of the Signature product was critical to the success of the project."
In fact, zone demarcation is communicated effectively through flooring change. And given that the office is housed is within a warehouse, the flooring choices serve as the main design feature, especially within the open-plan space and the junctions. This is particularly evident where you see the vinyl meets the carpet or where the carpets change colour. Ultimately creating interest in the area.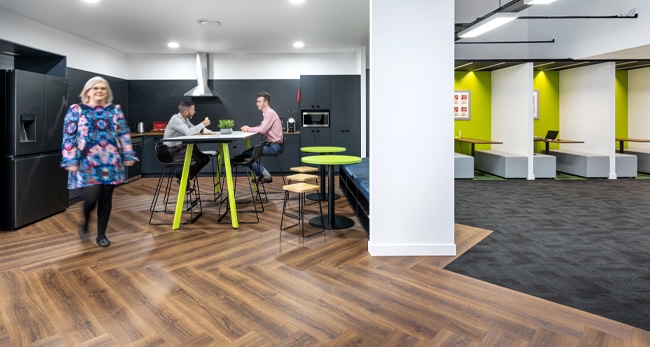 HPA chose the Pixel Shift range and Manor Oak vinyl plank from the 88 Planks range for this office flooring project. "The palette was loosely based on the client's existing branding and logo design. Additionally, Signature's commercial flooring range allowed us to complement this. The walnut tones create a point of difference to the typical blonde timbers currently 'on trend'. They infuse a sense of sophisticated traditionalism balancing out the loud and more playful colours," adds Stephanie.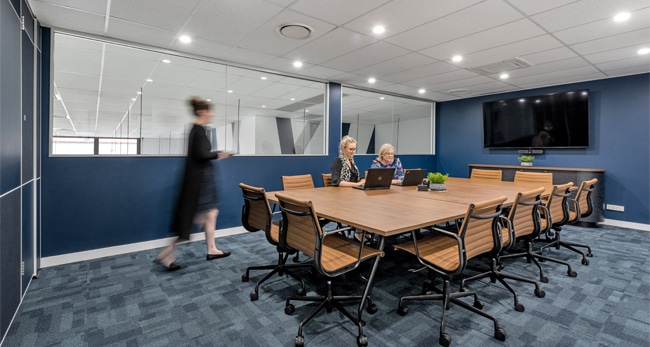 Both sets of flooring products are Green Tag Green Rate Level A Certified. Carpet tiles feature in most spaces and transition areas. The walnut vinyl, on the other hand, forms a fitting addition in the kitchen.
HPA and SRJWW worked closely together to create this new vision. In fact, the staff's positive reaction is a testament to the new direction and era of their business.
Discover Pixel StaticExplore 88 Planks
Photos: Wade Roberts Photography