Renovating Mulgrave Country Club – Part II
The Mulgrave Country Club renovation showcases Signature Studio's creative prowess with luxury flooring solutions like Axminster carpets. It's also an excellent case study in a successful brand partnership and collaboration. As the carpet designers during Stage 1 of the renovation, Signature was commissioned to design Stage 2. Vesna Mallia, Studio Team Leader, says, "We received a detailed and exciting brief. It was the same location but with additional areas, and the aim was a full transformation." Here, Signature Studio has contributed with an array of masterful custom carpet designs.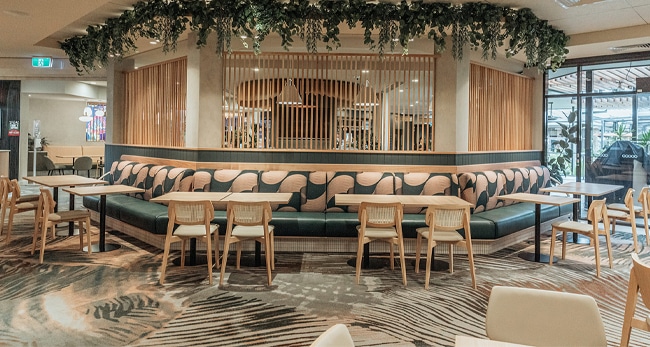 Let's explore these floor coverings in detail through the different areas of the hospitality venue.
Luxury flooring solutions in Bistro, Mulgrave & Heritage rooms 
The carpet in the Bistro, Mulgrave and Heritage dining areas, for instance, emulate a trowel's textured wall finishes. The design mimics the delicate underside of oyster mushrooms with ribbon-like linework. The palette includes eucalypt greens and soft mushroom pinks, further moving into rust reds. Additionally, the design impresses with its large, abstracted scale and bold contrasts in the Bistro area, moving to a more delicate and subtle variation for the Mulgrave and Heritage rooms. These rooms also double up as function spaces.
Custom rug insert in the Panorama room lobby
The rug creates a moment of breathing space with solid graphic areas of colour and illustrative lines. This design takes inspiration from the organic circular silhouette of oyster mushrooms. From here, one is led into the sophisticated Panorama function room with flooring that uses both the lobby's palette and the stairs' to connect the two spaces.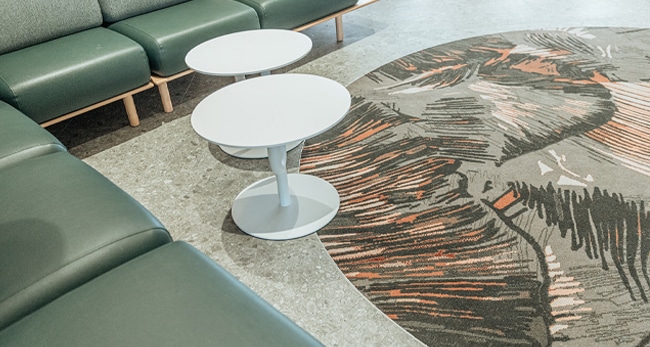 The Panorama room flooring design
Colours like eucalypt green, neutrals, and a hint of blush red combine effortlessly with the carpet's delicate pattern linework. There is also the suggestion of a circular pattern inspired by the imprint of a tree's rings. Further interspersed are elements of the Bistro area's carpet design. The colour palette contributes to a cohesive and subdued scheme.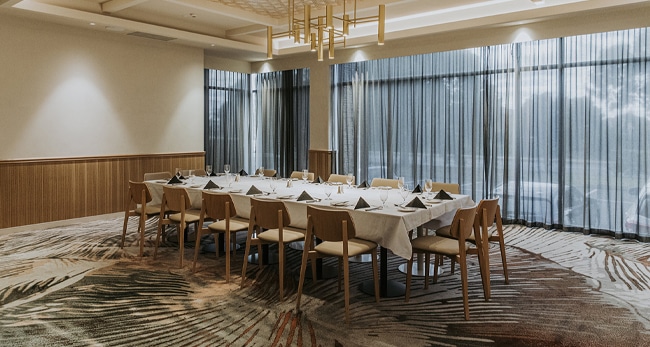 The custom design process and outcome
Vesna adds, "By sharing concept ideas and designs with refinement and feedback, an evolving design development process ensued. In fact, the outcome is beautiful. The designers worked exceptionally hard to achieve it. Additionally, the end-user was a great client to work with as they were open to all the designs presented with no changes to initial intent."
Photos by: Renee Green Creative
Designer: BSPN Architecture